8 Disorganization Styles of Struggling Boys
| | | |
| --- | --- | --- |
| | 8 of 9 | |
The Seemingly Satisfied Underachiever
---
The Seemingly Satisfied Underachiever puts in the same modicum of effort as the Sincere Slacker but has no problem with this less-than-stellar result. After all, it's just school, right?
Homayoun's Tip: I encourage students to keep all tests and quizzes (especially the ones with scores that were lower than ideal). The quizzes are usually the basis for the tests and the tests are usually the basis for final exams; by holding on to all of them your son can actually learn from his mistakes, save time, and make life easier (a win-win).
Ana Homayoun holds a master's degree in counseling psychology and is the founder of Green Ivy Educational Consulting. Click here to read our interview with the author.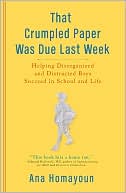 Click here
to purchase
That Crumpled Paper Was Due Last Week: Helping Disorganized and Distracted Boys Succeed in School and Life
.
Next: More popular galleries
More on: Helping With Homework