Shrinking the College Tab
| | | |
| --- | --- | --- |
| | 7 of 13 | |
Leave the Car at Home
---
Many colleges prefer that students, particularly underclassmen, keep their cars at home. You can save a nice chunk of change by dry-docking your kid's car. Obviously, the gas bill disappears and the maintenance costs should shrivel too. What's more, you may be able to freeze the insurance payments until your child returns home.
Even if your son or daughter doesn't own a car, you should still contact your insurer when he or she leaves in the fall. Insurers could slash the price of your child's coverage or eliminate the cost entirely until he or she starts driving again. To obtain price breaks or even bill moratoriums, some insurers require that the child's school be more than 100 miles away from home.
Admittedly, it might not be much of a consolation to a child without a car, but walking or riding a bike is a lot healthier and can help your child avoid the "freshman 15." That's the number of pounds new college students are thought to gain.
More on: Paying for College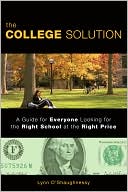 From The College Solution Copyright © 2008, FT Press. Used by permission of FT Press, and Pearson Education. All rights reserved.
To order this book go to Amazon.