Shrinking the College Tab
| | | |
| --- | --- | --- |
| | 5 of 13 | |
Lean on Your Kids
---
Even if you can afford to underwrite all four (or more) years of your child's college career, don't do it. Your child, despite his or her whining, will greatly benefit from paying at least part of the tab. If teenagers haven't spent time cleaning a deep fat fryer at McDonald's or playing Candyland for the umpteenth time at a babysitting gig, it can be difficult for them to appreciate how hard people have to work for their money.
If they enter college still thinking that money is imbued with magical properties -- it just appears when needed -- they could ultimately have a much tougher time dealing with the realities of the working world. And before that milestone, they may have more trouble buckling down at school because they don't own a financial stake in their education.
It's important to talk with your child long before the freshman year is looming about how much money he or she must contribute to his or her college education. You might decide that she has to pay for certain expenses, such as textbooks and living expenses. Another idea is for your child to kick in the equivalent of what she can borrow yearly through the federal Stafford loans, which are designed for students.
On many, if not most, campuses it's easy for students to find work. According to the American Council on Education, anywhere from 70% to 80% of college students work. Holding a part-time job not only defrays costs, but it can also boost your child's grade point average. Studies show that kids who work part time typically enjoy higher grades than those who don't. Juggling school and work commitments is an excellent skill to develop for a future career.
More on: Paying for College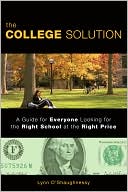 From The College Solution Copyright © 2008, FT Press. Used by permission of FT Press, and Pearson Education. All rights reserved.
To order this book go to Amazon.