Shrinking the College Tab
| | | |
| --- | --- | --- |
| | 3 of 13 | |
Start at a Community College
---
Beginning at a community college can save a bundle of money. According to the American Association of Community Colleges, the average community college tuition is $2,272. The trick to starting at a community college is making sure all those credits transfer to four-year institutions later.
Next: Head North
More on: Paying for College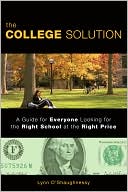 From The College Solution Copyright © 2008, FT Press. Used by permission of FT Press, and Pearson Education. All rights reserved.
To order this book go to Amazon.