Why Kids Love "Goosebumps"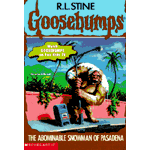 The best-selling author in America these days is not Stephen King or Tom Clancy. It's R.L. Stine, with sales of more than 100 million of his scary kids' books. In a mere five years, Stine's Goosebumps and Fear Street books have made him one of the best-selling authors of all time. If his books keep selling at the current pace, Stine could surpass Erle Stanley Gardner, the creator of Perry Mason, as the best-selling American author ever.
Mystery Man
But many parents, including my wife and I, had misgivings when Goosebumps started showing up around the house. Sure, they're often funny and usually have happy endings, but they're also violent and can be really, really scary for the second-to-sixth graders at whom they're aimed. I decided to find out more about R.L. Stine. That wasn't easy.
The normally reclusive Stine makes Hithcock-style appearances before and after episodes of the Goosebumps series on television, but -- unlike most best-selling authors -- he turns down virtually all interviews and personal appearances. When I tried to interview him, the publicist at Scholastic, his publisher, said he makes very few appearances because he's shy. And besides, he doesn't need to. His books fly off the shelves anyway.
But after doing some Internet research, I finally did get in touch with Stine via email, and here's what I learned:

He's 53 years old and grew up in Columbus, Ohio. After college, he moved to New York to be a writer, and has been writing ever since.

He writes seven hours a day, six days a week, and finishes a book every two weeks.

For twenty-plus years he wrote and edited children's magazines and books, mostly humor, until a fellow editor suggested he try a "horror" story.

Stine started using his initials just a few years ago because they sounded scarier.

He lives on Manhattan's Upper West Side with his wife, Jane, who edits some of his books, and their teenage son Matt, who refuses to read any of them.
It Ain't Literature, But...
In corresponding with Stine, reading his books, talking to my own grade-schoolers and their friends about Goosebumps, and looking in at some of the email between Stine and young fans, I have pretty much overcome my misgivings about his work. Yes, some of it is violent and scary. But Stine does something that most teachers and parents struggle with: He gets kids, especially boys, to read on their own.
Stine's gift is in writing the way kids talk. Awesome. Cool. Totally awesome. Definitely weird. That's probably one reason so many kids love him, and so many teachers and parents have mixed feelings. It ain't literature, they say. Kids should be reading good stuff. But at least Stine gets them reading.
James Michener, the author of Hawaii and other fat epics, once said he couldn't write "hello" in six pages. Stine, in six pages, can reach out, yank a kid away from a video game, twist the kid's guts, tickle the kid's funnybone -- and then grab a sweaty little hand and escort the child into the world of reading and books.