Read Aloud!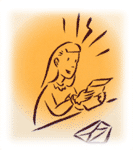 Ingredients
Magazines
Books
School texts
Mail (letters)
Comic pages
Directions
Reading aloud seems like such a simple task, but for a child with reading problems it can be difficult and frustrating. If you make reading aloud a normal part of the day, your child will become accustomed to reading.
Begin with a book or other reading material in which your child has a high interest. A letter from a relative or friend might be a good choice, or start with your child's favorite comic strip. Have your child read the material aloud for a certain amount of time each day. At the end of the paragraph, go back and review difficult words and have her read it again. Continue this until the time is up. Praise your child for her efforts.
This activity is from 50 Fun Ways to Improve Reading, which was created as part of the Bridges to Reading kit, developed by Schwab Learning. Reprinted with permission from Schwab Learning.