Say Cheese!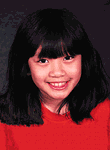 You can remind your kids to smile, but how else can you make sure they look like a million bucks? These tips may help!
Stay away from clothes with bold patterns, advises Senior Photographers International of Fort Myers, Florida. You don't want anything to take attention away from your child's face.

Skip the shirt with writing or a logo. The words may be partially cut out of the photo.

Don't overdress your child. When kids are hot or uncomfortable, it shows.

Go for bright, vibrant colors.

Choose long sleeves over short sleeves. They're less distracting.

Make sure your child's lunch on picture day won't show up on her shirt: Pack something that won't spill or stain!