Building School Communities via the Web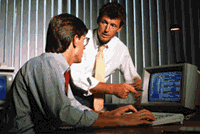 Published in partnership with National PTA.
Gordon Ulrickson has big plans for his school district's new Web site. There is always something before the legislature that either helps or hurts kids, and he's going to use the site to get the word out to parents on particular bills. Ulrickson, the Region 3 director for the Colorado PTA, used to spend hours making telephone calls to update members on the status of current bills, and a considerable amount of money each month on mass mailings. Now, he can put all the various legislative updates up on the site. The savings in operational costs will be incredible.
Ulrickson estimates that the Denver PTA Council and each local PTA will save an average of $2,000 a year in hardware and online fees alone by cashing in on the new partnership between National PTA and FamilyEducation Network (FEN). But he is particularly enthusiastic about what this is going to mean for PTA membership in his district. "I am using our FEN site as a marketing tool to increase parent involvement. Our biggest hope is to increase the number of PTAs in our district and region," Ulrickson said.
This is just what National PTA had in mind when it chose FEN to be its exclusive Internet partner promoting family involvement. National PTA President Lois Jean White sees the partnership as a way to "help parents do even more for children." And in its mission to serve children in public schools, FEN sees the National PTA as a critical partner. "This service is like one-stop shopping for busy parents who want national, state, and local information about the issues that affect their kids," says FEN President Jon Carson. "And we're convinced that it's the nation's parenting leaders who are going to get this into schools."
In Denver, it was the PTA that convinced the superintendent that a FEN site would make it possible for the school community to organize and communicate like never before. The PTA got approval from the superintendent to maintain the site on behalf of the school district, and some serious momentum began to build. To Ulrickson, the benefits were clear. What you get is an easy-to-maintain Web site for the district, all of its schools, and the PTA. The free package includes a unique URL, templates to activate a family involvement Web site, a user's guide, and a built-in connection to FEN's Web site (rated by Family PC magazine as the #1 family Web site). And FEN assigns to each member district an account manager who provides ongoing technical help and maintenance advice.
In 1998 both National PTA and FEN encourage other local PTA units to take the lead in securing approval to join the nearly 200 districts and 2,000 schools already in the FEN network. Ulrickson and his team are working now to get their district's calendar page up and running. His goal is to have half of the district's schools online by the end of the year. In the meantime, he's getting calls from schools that learned about the FEN site in the district PTA newsletter and want to organize a PTA in order to manage a site for their school district.
"Communication is the key to having an organization run smoothly," Ulrickson says. "The FEN Web page will give the council, region, and state PTAs a modern technology tool to help solve communication problems and help spread the word about PTA."