5 Essential Tools and Tips for Disorganized Boys
Adults sometimes inadvertently lump together struggling students, but it's important to recognize the different traits and tendencies of individual kids, Homayoun said.
"Nobody likes labels, but sometimes it's useful to give names to groups of traits if only to help identify problems," she writes in the third chapter of her book, "Identifying Your Son's (Dis)organizational Style." She breaks down eight categories that disorganized and distracted boys tend to fall into, ranging from the Overscheduled Procrastinator – who easily finds excuses to put off school work because he has so many after-school interests and obligations – to the Seemingly Satisfied Underachiever – who just doesn't see the point in applying himself academically.
Take a look at the eight categories here, and see what traits your son possesses.
"This is the #1 chapter I get comments on," Homayoun said. "Parents say, 'I'm not the only one out there. It's really helpful to understand why my son struggles and how to help organize him. It's not one-size-fits-all.'"
Homayoun details in her book how to help tailor your child's time-management skills, and his homework, essay-writing, and study methods to fit his particular style and strengths. For example, she explores whether audiobooks are okay for kids who struggle with reading comprehension, and she offers advice on effectively using flashcards – by mastering five at a time rather than trying to absorb every fact in the stack at once.
Homayoun also highlights tips for finding academic balance when kids are struggling with certain tough circumstances in life, such as illness, learning differences (such as ADD and ADHD), psychological issues, and their parents' separation or divorce. It can be surprisingly easy to overlook how these circumstances affect kids' performance in school, she said.
What Makes Him Tick?
In addition to finding study methods and academic goals that fit him, your son will also benefit from setting life goals that appeal to him, Homayoun said.
"It's very hard to encourage kids with school, grades, and college," she said. "Really you want to motivate kids to find what they're passionate about. Finding success outside of school is imperative."
She has worked with one student who went on to become a professional drummer, and another who went on to play in the NBA.
"The kid who's now a drummer – when I asked him, 'Okay, let's set some goals,' he said, 'Oh, this is awesome.' A lot of times, kids will exceed any expectation you put in front of them, if you get them in the right mindset," Homayoun said. "My goal is for all kids to be engaged in their life. Once that happens, it really ripples to everyone around them."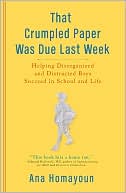 Click here to purchase That Crumpled Paper Was Due Last Week: Helping Disorganized and Distracted Boys Succeed in School and Life.