The Young Gifted Child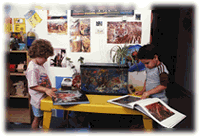 Many children have extraordinary gifts, but not all children are extraordinarily gifted. Is your little boy or girl an exception? In a recent issue of Childhood Education, Karen Meador, of the Department of Education at West Georgia College, outlined some of the telltale signs that gifted children may exhibit.
The ability to learn rapidly.
These children often learn new material with less help and less practice than their peers. However, they might also pass by 'easy' learning chores, such as learning to spell 'turtle', to master a more difficult word, such as 'anthropomorphics'.
Advanced ability in a specific field. Meador says gifted students may appear particularly advanced in a specific area. A child who is precocious in music, may not, however, be clearly gifted in all areas. If the child does not learn to read early, he will often catch up with other precocious readers.
Highly creative. Creative talents are most easily recognized in creative writing and drawing, but may also be evident in a creative or unique solution to problems, or the ability to find multiple reasons for a character's actions.
Long attention span/short attention span. A child may be unable to sit still when uninterested, but may spend hours engrossed in an activity of her own choosing.
Verbal proficiency or frustration. The language-advanced child who regularly talks 'above the heads' of his peers may also become frustrated when the other children don't understand his complicated thoughts.
Meador cautions that no gifted child will exhibit all of these characteristics. And she says that whether your child is a high-ability student or not, it's our job as parents and educators to provide challenges and opportunities for all of our children.