Banning School Recess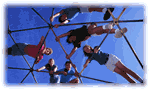 The schoolyards in Atlanta, Georgia, are quiet this morning -- no children running, talking, or laughing -- and they're going to stay that way. Almost ten years ago, the district eliminated recess from its school day. Since then, all new Atlanta elementary schools have been built without playgrounds.
Under pressure from parents and the state to raise test scores, some schools are casting aside recess as a waste of precious time. Benjamin O. Canada, superintendent of schools in Atlanta, told The New York Times, "We are intent on improving academic performance. You don't do that by having kids hanging on the monkey bars."
Other schools have banished recess because they're concerned about the injuries and lawsuits that can arise from outdoor play. Administrators also cite the threat of strangers to children outside of school walls, and a shortage of teachers and volunteers to supervise recess as reasons to eliminate it.
All work and no play...
Olga Jarrett, a professor of child development at Georgia State University, is concerned by this trend. She recently conducted a study on how recess affects academic performance, and found that children who do not have recess are much more fidgety in the classroom. "Human beings have to take breaks. It's one of our basic needs," says Jarrett. "If we told union workers that they had to go from 8 a.m. to 2:30 p.m. without a break, they'd go on strike."
In her study, Jarrett found that in schools without recess, the amount of instructional time lost to fidgeting adds up to the amount of time it takes to have recess in the first place. That makes perfect sense to third-grader Tristan Beech, of Marblehead, Massachusetts. She says, "Recess gives me a chance to run around and play tag. I'm in one classroom with one teacher all day long. I need a mental break."
Learning to get along
The benefits of recess go far beyond the "fidget factor," according to Anthony Pellegrini, professor of child development at the University of Georgia and author of School Recess and Playground Behavior. "Kids love recess because it's one of the few times during the school day that they get a chance to interact with their peers and do things on their own terms."
Kids can learn important social skills on the playground, says Pellegrini. "Recess allows children to make choices about who to interact with and who to avoid." And teachers can learn a lot about their students by watching them at play, adds Jarrett. "It's important for teachers to know which students are being isolated and teased, and who the bully is."
These days, an increasing number of kids are either home alone after school or involved in a structured after school activity. "The time they have to play freely has become more limited," says Jarrett. This leaves her to wonder: "If kids aren't learning how to interact with other kids on the playground, where are they learning it?"
So much to do, so little time
But schools are feeling a real time crunch. From bike safety, to character education, to good old reading and writing -- they're being asked to pack more and more into each day. Darwin Johnson, elementary school superintendent in Evanston, Illinois, told The New York Times, "When I ask parents what we should cut, they think I'm being a smart aleck." Frustrated, school administrators are saying that something has got to go, and recess is an easy target.
If you're concerned that recess is in jeopardy at your child's school, Pellegrini suggests you tell school officials to look at the data. He says, "School policy should follow research, not folklore!" Jarrett agrees, "Many teachers have a gut feeling about the importance of recess, but they need the proof. Parents can help by getting the facts and standing together."