Kids Review Technology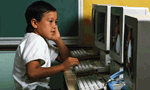 Here's a way they can translate their knowledge into a useful and creative magazine that everyone in the family can enjoy. As you add new software to your family's library, ask your kids to write their own reviews of the product. They can note how easy or difficult the program is to learn, how elegant or clumsy the interface is, the quality of the graphics and video, the product's usefulness compared to similar programs, and so on. Similarly, your children can review sites on the World Wide Web as they come across them, printing out pages from the site and adding them to their "Junior Reviewers: Digital guide" magazine.
You can also assign more than one family member to review the same product, comparing their assessments of the program. As you learn what your reviewers value in software products and Web sites, you'll become a more informed consumer. And an even more popular parent!